Join us for our SΛNCTUΛRY Grand Opening!
We are thrilled to invite you to our exciting SΛNCTUΛRY Grand Opening event on Sun Oct 15, 2023 at 6:00 PM. Get ready for an unforgettable evening filled with fun, immersive technology, and celebration.
Our event will be held on all four levels of the multi-tenant hub located at 447 Minna Street, San Francisco, CA 94103. This vibrant location sets the perfect backdrop for our grand celebration as we move into the 3rd floor. Expect a fantastic atmosphere and a warm welcome as you step into our new dance space.
Don't miss out on this incredible opportunity to be a part of our SΛNCTUΛRY Grand Opening event. Mark your calendars, spread the word, and get ready to celebrate with us!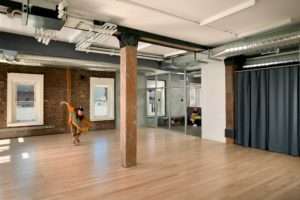 WORLD PREMIERE OF RAISSA SIMPSON'S PERFORMABLE POSTHUMANISM
AND WORKS BY • ASHLEY GAYLE • FARAH YASMEEN SHAIK • SNOWFLAKE CALVERT
Photo Credits:
SΛNCTUARY & 447 Minna Building photos by Ceasar Rubio
PUSH Dance Company photos by Matt Haber